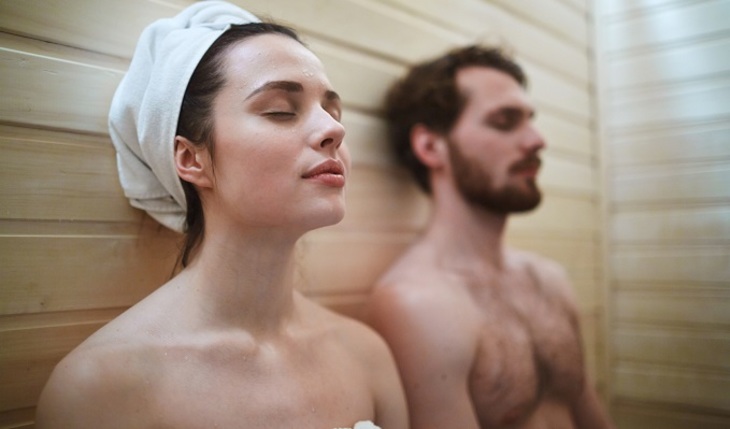 Sauna is very good for health, it has a beneficial effect on the vessels, heart and brain.
This is evidenced by the results of several serious studies published recently. Should we believe them?
We know that fans of the sauna, as well as fans of the Russian bath, and indeed everyone who loves to steam in different national baths, have a lot of arguments about the usefulness of such procedures. But in general, we treat them with caution. We believe that such an extreme temperature load is only for the healthy. A core and many other patients is simply contraindicated. On whose side is the truth – modern scientists or popular opinion? To answer this question, let's turn to the arguments of science.
WORD OF SCIENTISTS
A few days ago in a serious medical journal BMC Medicine published a study of physicians from the University of Western Finland, which was conducted for 15 years, during which almost 1,700 people of both sexes aged 53-74 years were observed.
It turned out that their risk of death depended on how often they were in the sauna. Those who visited it once a week had a mortality rate of 0.71%, who steamed from 2 to 7 times a week – 0.3%, that is, 2.5 times less. But when the groups tried to equalize the risk factors for cardiovascular diseases, lifestyle, physical activity and other indicators related to heart disease, the difference was even more impressive – 0.75% vs. 0.23%. That is, mortality among sauna lovers was 3 times less.
It is hard to believe? But this is not the first such study. In May, the results of a large study of the connection between strokes and a sauna were published.
We usually believe that a sauna in a sauna, like in any other bath, only increases the risk of strokes. But it turns out, the opposite is true. The Finns, who were in the sauna 4-7 times a week, had cerebral ischemic circulatory disorders 61% less than those who had been in it only once a week. Even those who visited the sauna 2 times a week, and not just one, were less likely to suffer strokes by 14%.
RUSSIAN SPECIFICS
How can we explain these paradoxes and whether our compatriots should run to a Finnish bath?
It is worth listening to the arguments of scientists; they explain such effects by training vessels during the transition from normal temperature to extremely hot (in the steam room) and back. This has a protective effect on them, they function better.
But what will happen if the mass of our compatriots, having read this, will rush into saunas in order to protect themselves from heart attacks and strokes? Do not do this.
The problem is that the Finns do not spend time in the sauna quite like we do. Russian style is not only repeated visits to the steam room and then immersion in ice water. Bath without drinking is like New Year without "Irony of Fate, or Enjoy Your Bath!". And it's not always just beer. Many behave like the characters of this film. Of course, this style of trips to the bath can not be frequent.
And many Finns visit the sauna several times a week, sometimes every day. It is clear that they do not go there to drink Finnish vodka and not even beer. This is such a sanitary procedure like a daily shower with us. Of course, they do not soar at the same time until you drop, and behave quite moderately.
what else is important: in Finland they start to go to the sauna from childhood and in large quantities. That is, they train their vessels for a long time, gradually and with the mind, without excesses. And if you start doing this at a very mature age, then you can get into trouble and trouble. Especially if you have a set of cardiovascular diseases – hypertension with complications and ischemic diseases of the heart and brain.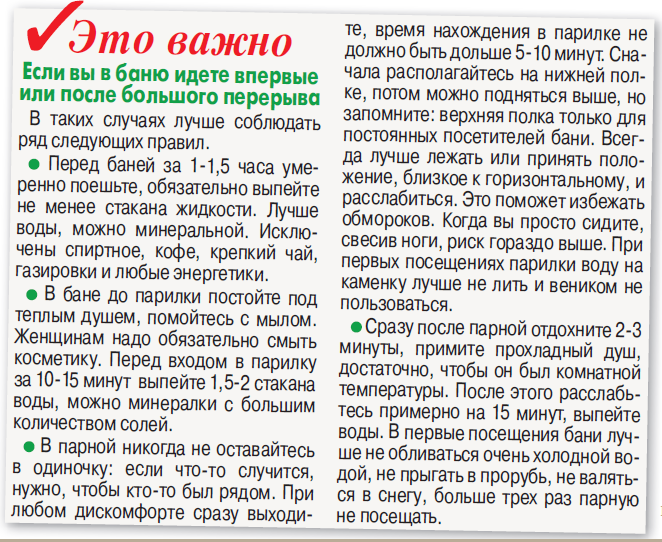 These diseases are not an absolute contraindication for the sauna, but before you go to steam, you need to go to the doctor for permission and advice on how to do it for good and not for harm. If the vessels are already tight, then the steam room can be dangerous. Therefore, in front of a sauna or another bath it is worth undergoing a study of the vessels, showing the degree of their elasticity.
In this regard, it is extremely important to behave properly in the bath and steam room. This applies not only to the sauna. The main thing – the transition from a more or less normal temperature to the extreme (steam room). And no matter what kind of bath it is – Finnish, Russian or Turkish. The vessels are trained by this very temperature difference.
For those who go to the bath for the first time or after a long break, it is important to remember that in such cases the body reacts differently than those who regularly visit the bath (see "This is important").
CHILD IN THE BAN
The child, unlike an adult, overheats easier and supercools faster. This is due to its physiology. Therefore, children up to 5-6 years, and according to many doctors, and up to 12, should not be in the steam room. Although many do not adhere to these rules.
For example, the Finns bring them for 2-3 minutes to a steam room with a temperature of no more than 60 ° C. But it is better not to rush and wait until 12 years.
Oleg Dniprov.
FOTOLIA