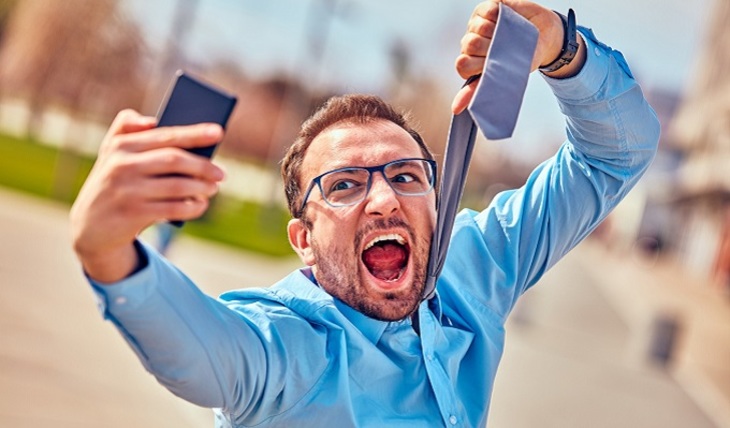 This disease has no official number and code in the list of diseases. But more and more doctors recognize that nomophobia is becoming the scourge of modern society.
An ambulance brought a thirty-year-old Muscovite to the hospital with a strange attack. The woman found increased pressure, heart palpitations and other, perhaps not deadly, but unpleasant symptoms.
But most of all, the doctors were surprised by the woman's behavior: she was nervous in the emergency room, she demanded to immediately help her and let her go home, because there she remained … no, not even a small child, just a smartphone.
No one paid any attention to the patient's whims, and she ran away without even collecting her documents. Behind them, the lady came the next day – calm and radiant. She had a small mobile phone in her hand.
This story was told by members of one of the medical online forums. And it turned out that many doctors in various cities of the country faced strange people who were too nervous when they didn't have their phone.
Here are just a few of the doctors knew that it was not a whim, but a new phobia, which had already received its name.
Nomophobia – a panic state in those moments when a person finds himself without his means of communication.
The word nomophobia is derived from the combination No mobile phone phobia. It is about the fear of being left without a phone and painful conditions if this happened. But when the gadget is in hand, the patient can be completely indifferent to it.
Doctors also highlight the dependence on gadgets. This is the case when a person is not able to tear himself away from the small screen of a smartphone. In many cases, gadget dependency and the fear of not having it at hand are indeed related, but this is not a requirement.
"Such conditions are difficult to diagnose. There are no clear boundaries, where the simple excitement of not being able to find out how the child is doing, or getting important messages from work, and where the phobia begins, ends.
The patients themselves most often deny the existence of the problem. They come to a psychotherapist only in the most neglected cases, when the fear of being left without a smartphone already clearly interferes with a normal life, "says psychotherapist at a Moscow clinic Konstantin Yarovoy.
Now doctors are trying to describe the symptoms that they consider to be signs of a real disease. First of all, a person left without a favorite means of communication, all thoughts revolve around the device, there is irritability, inability to concentrate, feelings of strong discomfort, sadness, loss.
If it is not too pronounced, it is early to talk about nomophobia. But for many people, such manifestations become a real disaster. In the most neglected cases, the classic signs of a phobia are manifested – panic fear, sweating, rapid heartbeat, chills, confusion of thoughts or consciousness. As soon as the precious smartphone is in the hands, it all passes quickly.
Any phobia is quite irrational, therefore it is difficult to explain its origin. Today, scientists cite many reasons that can affect the development of nomophobia. These are unresolved personal problems that a person somehow masks with the help of a gadget. Dependence on the phone or fear of being left without it are associated with a feeling of loneliness or fear of it. Escapism – leaving the world of fantasy – can also cause painful behavior.
Doctors say that treatment can be long and difficult, so it's best not to wait for the phobia to get into a running form, and at the first signs of the disease, go to a psychiatrist or psychotherapist.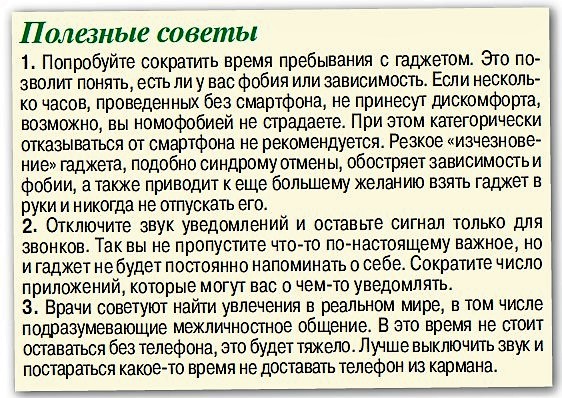 Natalia Purtova.
FOTOLIA