For a long time, medicine was asexual, doctors underestimated the differences between men and women. Now the situation is changing.
There are already special programs not only treatment and prevention, but also nutrition, formed on the basis of sex.
Moreover, the nutrition of women should differ not only from the male, ideally it should be different in different age periods. And the fact that it is not useful for a teenage girl can be extremely important for her at the age of Balsac.
Today, medicine has clearly identified the main problems of women's health related to nutrition. First of all, it is maintaining a normal weight: overweight almost inevitably leads to a bunch of diseases, which includes not only cardiovascular and endocrinological problems, but also some types of cancer.
All these diseases are serious, and they are the main cause of death in our time. How to avoid them? Here are the principles of female nutrition for different ages.
AGE 15-35 YEARS
Many believe that this is the best time for women. But in these years it is important to accumulate such a stock of health, so that it is enough to avoid disease in the future. In addition to physical activity, nutrition is of paramount importance.
First of all, you need to eat so that there is no excess weight. And not only obvious obesity is dangerous, but simply overweight. Especially bad if the fat accumulates in the abdomen – the so-called abdominal obesity. Over time, it will almost certainly lead to the so-called metabolic syndrome.
In addition to obesity, it includes type II diabetes, hypertension, coronary heart disease. With this syndrome, there is still an increased risk of developing certain types of cancer.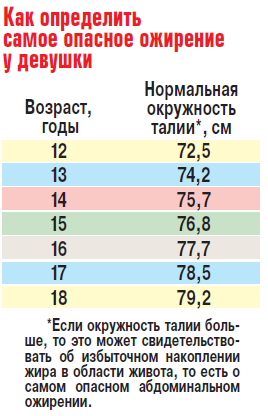 In women, abdominal obesity is less common than in men: their fat is usually deposited not on the abdomen, but in the thighs. But often, the fair sex is the deposition of fat in the waist, that is, on the stomach. And the sooner this tendency is detected, the better: it will allow you to start more quickly the prevention of such obesity and the metabolic syndrome as a whole. Recognize the tendencies to the most dangerous obesity can be on the waist circumference (see table.).
At the first stage, the main role in the prevention of such obesity should be played by the parents, they need to teach the child to follow the diet and lead an active lifestyle. It is best to explain to your daughter from childhood what products are useful and which are not.
She needs to understand that all food in terms of calories is divided into three groups. For the child, the so-called principle of the traffic light (see infographic) will be very clear, when products from the green group can be eaten without restrictions, from the red one – as rarely as possible or completely discarded, and from the yellow group – moderately. These nutritional rules will be important throughout a woman's life.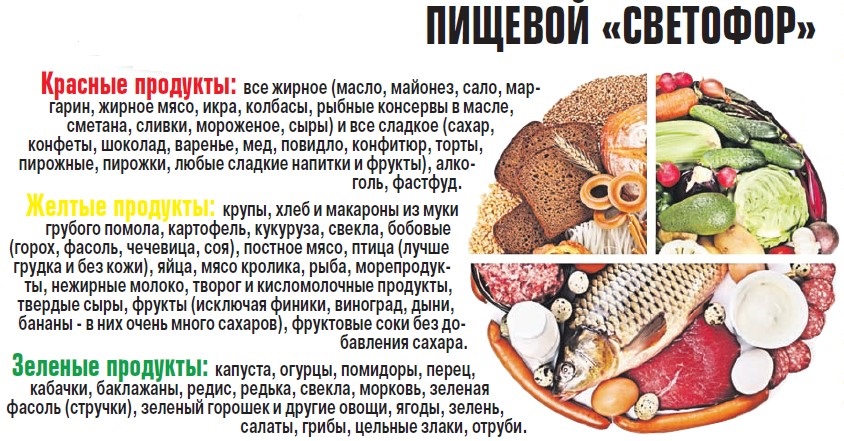 AGE 35-60 YEARS
During these years, women continue to live actively. Indeed, during this period, she is first a mature mother, and then a grandmother. And she has a lot of important things to do. From the point of view of health, the main goal in these years is to remain healthy, to prevent the development of diseases that come with age.
Even at a fairly young age of 38–40 years old, a decrease in the content of sex hormones begins in the female body, changes occur as a result: fat begins to be distributed differently (it depends on hormones) – the volume of the hips can decrease, and the waistline increase. That is, the risk of developing abdominal obesity and all the diseases typical for it increases.
This once again underlines the importance of feeding on the principles of "traffic light". Another good thing at this age is to use foods with a so-called lipolytic effect: they help break down fats, these include cucumbers, pineapples and lemons.
Also useful products that increase the release of energy (thermogenesis), which include green tea, mineral water without gas and seafood. Very useful in these years to abandon any drinks with sugar, and if you need a sweet taste, it is better to use sweeteners.
Be sure to try to eat lean types of meat and fish, they create a feeling of satiety and help to avoid overeating.
But it is impossible to refuse completely from fatty fish, as it contains the most important omega-3 acids (after 35 years they are extremely important for protecting vessels from atherosclerosis and the formation of blood clots). First of all, it is such fish as mackerel, herring, sardine, sprat, halibut, salmon, but other fatty marine fish will fit. In addition, omega-3 acids are in flaxseed, rapeseed, mustard and sesame oils.
It is important that fatty fish contains a lot of vitamin D, which plays a major role in the absorption of calcium. It is necessary for women throughout life to strengthen bones. They are more prone to men with osteoporosis (weakening of the bones), and, as a result, there are even specific female fractures in old age.
During life, the need for calcium in women changes, and at what age it is needed, as indicated in the table. In no case do not replenish calcium with preparations that do not contain vitamin D, without it excess calcium can be dangerous.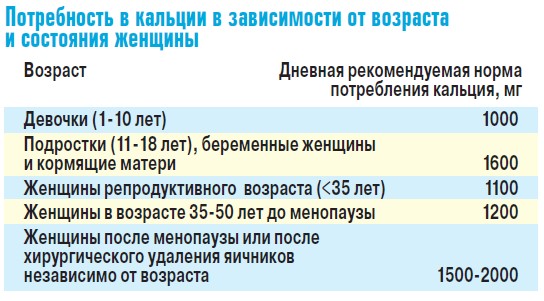 AFTER 60 YEARS
Unfortunately, at this age, as a rule, the disease already exists. It is important to learn to live with them so that they do not progress, there are no complications and no new diseases develop.
Limiting food to avoid weight gain is no longer so important. At this age, it is necessary that the weight did not drop sharply. Often this is due to a decrease in muscle mass. This is bad, so you need to try to eat more protein foods (even if the appetite is bad) and move more. Fatty and sweet is still unhealthy. But fatty fish, as a source of omega-3 acids and vitamin D, as well as calcium, are extremely important.
After 50-55 years, a woman has few sex hormones. But their role can partly play phytoestrogens – these are natural substances similar to female hormones contained in plant foods. There are many of them in all legumes (beans, beans, lentils, soybeans, etc.), in bran, whole grain products, flax seeds, in many vegetables and even in fruits.
Oleg Dniprov.
FOTOLIA,
REX / FOTODOM