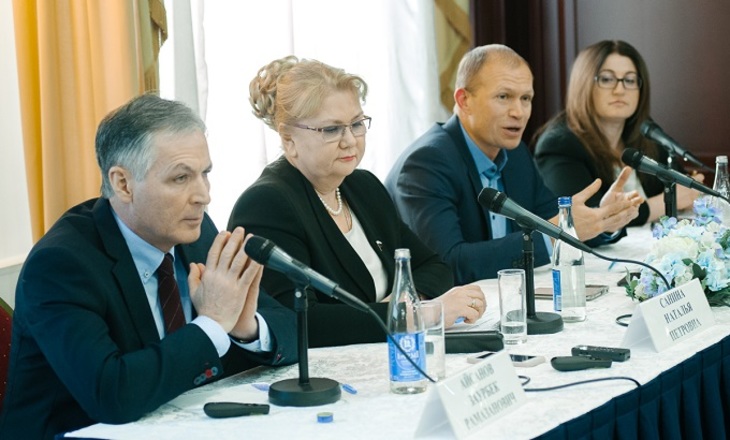 Materials on the topic
Peat smog could come to Moscow and the region, as in 2010
Discovery: scientists completely decoded the basil gene
Nightmare: a flock of pigeons killed a 72-year-old pensioner
As experts say, the human lungs are the first organ between ecology and human health. And it's no secret what kind of blow the lungs take for a variety of reasons.
But how is it most effective to save those who have already become ill with such a dangerous ailment as bronchial asthma? What are the government and medical professionals doing in collaboration with community organizations so that there are fewer patients with asthma in Russia?
These questions were answered at the final press conference in Moscow, which was devoted to the Healthy Lungs social project for the prevention and control of asthma.
Among the many interesting speeches, the assembled journalists heard answers to the questions: how to diagnose bronchial asthma in a timely and correct manner and can asthma be cured or controlled? What steps need to be taken to improve diagnosis and reduce the burden of bronchial asthma? How to live with asthma?
Natalya Sanina, a member of the State Duma of the Russian Federation, first deputy chairman of the State Duma Committee on Health Protection, member of the executive committee of the All-Russian Popular Front, chief physician of the Moscow Region, MD, professor, who opened the discussion of the problem, said:
– I am proud that in our country there are such projects that are successfully and effectively implemented in million-plus cities not only with the participation of doctors, but also with the participation of the population.
Natalya Petrovna told about legislative support for patients with bronchial asthma, important benefits for citizens, especially for children with disabilities who are under 15 years old, including sanatorium treatment, are provided free of charge, allowance is paid, and that material and legislative support only growing.
– The project "Healthy lungs" practically raised the knowledge level of doctors to a new level. This is a huge contribution to the knowledge of specialists and patients, – said Natalia Sanina.
So far, in our country, bronchial asthma is completely controlled in only 23% of patients, in part – in 35%, and not in 42% of cases. Moreover, severe patients – about 10%, and their treatment is expensive, since the targeted forms of treatment are used. This is where the help of the state and such programs as the Healthy Lungs program that has successfully passed in the large cities of Russia is needed.
Together with thousands of pulmonologists in the country, the Russian respiratory society and the program for the prevention and control of bronchial asthma successfully completed. Chief freelance specialist – pulmonologist of the Ministry of Health of Russia, head of the department of pulmonology of the First Moscow State Medical University. THEM. Sechenov Sergey Avdeev spoke about 10 seminars designed to improve the professional level of primary care physicians, pulmonologists, allergists, therapists and other related specialties. First of all, to increase their awareness of the newest methods of treatment, of the same targeted therapy and new drugs.
According to Sergey Avdeev, the tasks of increasing the importance of early diagnosis of bronchial asthma, identifying patients with uncontrolled bronchial asthma were solved. During the implementation of the Healthy Lungs program, its participants focused the attention of patients and specialists on the importance of disease control and the use of modern effective methods of treatment.
Our reference
Over the past year, this unique and effective program has covered 10 cities. This is St. Petersburg, Moscow and Krasnodar. These are Nizhny Novgorod, Voronezh, Krasnogorsk, Rostov-on-Don, Samara, Novosibirsk and Chelyabinsk.
Special attention was paid to the training of specialists in the diagnosis and treatment of bronchial asthma in accordance with modern clinical guidelines. And to inform patients, more than 620 "Patient Schools" were conducted in 13 regions. More than 6.5 thousand sick people received modern knowledge of bronchial asthma, methods of self-control and self-treatment.
– We are successfully fighting asthma. Over the past 30 years, mortality from asthma has decreased from 4.8 in 1994 to 0.18 in 2015. Today, among sick people with respiratory problems, 42% of patients die from pneumonia, and only 0.6% die from bronchial asthma. This is a success, but not a final victory, and we still have something to work on, "Sergey Nikolaevich told reporters.
Among these problems, over which further work will continue, is the solution of the issue with a low percentage of patients receiving several effective therapeutic drugs. This percentage must, of course, be raised. Zaurbek Aisanov, a professor at the pulmonology department of the FDPO, FGBOU VO RNMU, spoke on this. N.I. Pirogov, D.M.N. He told reporters about the spirometric method of diagnosis, that this method is still not very accessible with us, but the difficulties with its application are successfully solved.
"There is an active and continuous training of both doctors and patients, so that each study can be performed qualitatively, so that patients can correctly carry out the maneuver and all treatment of bronchial asthma after training by a doctor," Zaurbek Ramazanovich emphasized.
All the speeches at the press conference were accompanied by content informative slides, and in his address to media representatives Andrei Belevsky, President of the Russian Respiratory Society, Chief Freelance Pulmonologist of the Moscow Health Department, Head of the Pulmonology Department of the Russian National Medical University. N.I. Pirogov, in particular, noted:
– The Healthy Lungs program, which successfully passed in 2018, received a great response among patients, there are huge wishes to continue it in other areas of pulmonology. Well, "School for Patients" is available in online format on our website. We hope that the activity of the society will continue in the new year. We have planned a lot of educational activities in various regions of the Russian Federation.
Of course, the price of treatment for bronchial asthma is high today, as we learned from the answer to the question of the leading press conference. This price varies from 800 rubles per month for the lightest patients to 80 thousand for severe patients. And in many cases it is simply impossible to do without state assistance. I am glad that this assistance is provided today, as a rule, in full, timely and efficiently.
Our reference
According to WHO, by the end of April 2017, about 235 million people suffered from asthma. People with allergies are most susceptible to the disease. Bronchial asthma is the most common chronic disease among children. According to statistics from the Ministry of Health of the Russian Federation, in 2017, 1,538,049 people suffering from bronchial asthma were registered in Russia, and 123,562 patients were diagnosed for the first time in their lives.
Evgeny Alexandrov
.

Chief editor of the blog – Marko.