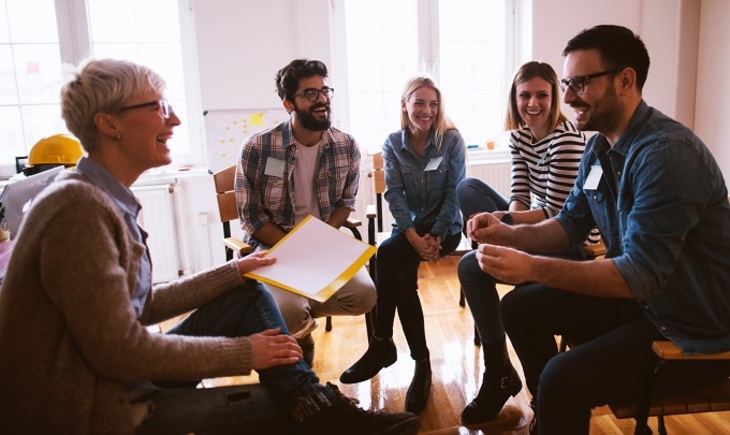 Materials on the topic
A gang was detained in Novgorod, blackmailing girls with intimate photos
Detained gang of psychics, robbing Muscovites live
Casting organizers deceiving aspirants for roles in the TV series "Interns"
The market for psychological training is growing at a record pace.
Over the past three years, the market volume of trainings and personal growth courses has doubled, but two thirds of them are conducted by non-professionals, analysts say. As a result, clients of pseudo-coaches lose not only money, but also health.
Over the past three years, the number of applications for participation in psychological training has increased by 60%. And demand, as you know, creates supply. As a result, if in the second quarter of 2015, there were about 3 thousand trainings and personal growth courses in Russia, in the same period of 2018 there were already 6 thousand.
"This is one of the fastest growing segments in a crisis economy," says Alexey Repin, managing partner of the Price & Quality Agency. "In a crisis, people are more prone to stress, and psychological training looks like a kind of saving pill that helps relieve tension and see the light at the end of the tunnel.
Classes are focused on the widest segments of the population and afford even for low-income people. The price of short-term programs designed for 1-2 days ranges from 700 rubles to 5 thousand rubles. The average price in Russia for the most popular courses designed for 3-5 days is 3.7 thousand rubles.
The end of spring is the peak of the training season. The study showed that at this time the number of applications increases to 40%. By mid-July, the demand is reduced three times, and in mid-autumn it is gaining momentum again when the "summer charge" ends and the autumn blues comes into effect.
The most popular programs are: family well-being, women's courses where they teach how to uncover a goddess or find a husband of dreams, as well as personal growth trainings, which are aimed at having a person discover his superpowers, overcome his phobias and achieve financial well-being.
Moreover, one of the main problems of the market of psychological services is the dominance of amateurs. As it turned out, only every third training is conducted by a professional with a specialized psychological education; in other cases, certified psychologists cannot be found during the day with fire. Even ex-PR workers, teachers, economists, and people with no education at all can conduct trainings, and the best thing that can happen to a client is wasted money. In the worst case scenario, personal problems will not be solved, but will be aggravated.
– The purpose of the personal growth trainings is to rearrange the personality, values, attitudes and beliefs, but the main danger is that participants in such programs do not warn about it and as a result they lose themselves.
People cling to their weaknesses, forcing them to remove their internal inhibitions and to feel confident in places where there are no real reasons for this. Many who attended such courses experienced deep disappointment in themselves and in life, because they tried to use "knowledge" as a magic wand, but did not get any results and were even more disappointed in themselves, explains the interpersonal relationship specialist Vladimir Yakuntsev.
IMPORTANT!
In order not to become a victim of non-professionals and outright fraudsters, when choosing a training course, you should follow a few simple rules.
1. Pay attention to the education, experience and reputation of the coach. Before enrolling in a training session, it is better to ask what will be taught there. The more specific the answer, the better.
2. Stay away from trainings that promise everyone and immediately become leaders, to achieve transcendental heights and financial well-being. If the teacher avoids discussing how the training will take place, it is better to leave. In this case, most likely, you will fall into aggressive training, where you will be forced to overcome fears by stressful methods, up to humiliation and even bodily harm.
Elena Khakimova.
Photo: FOTOLIA