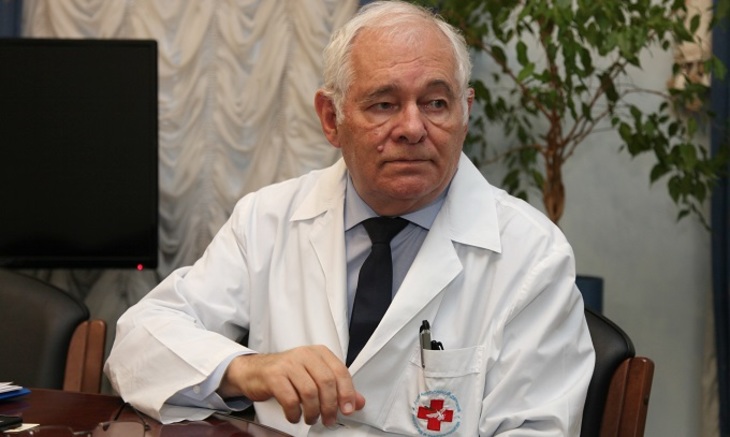 He is called the country's favorite doctor and even a doctor of all Russia, but he himself prefers to be talked about simply – a children's doctor.
Leonid Roshal told "MN" how the kid, rescued from the rubble in Magnitogorsk, feels, why doctors should not be jailed and that more money will finally be allocated to health care.
MIRACLE SALVATION AND EXPERIENCE OF DOCTORS
– Leonid Mikhailovich, I will immediately ask about the 11-month-old Vanya Fokin, who was found under the rubble in Magnitogorsk. When I heard that the child was sent to your clinic, it became clear that everything would be fine with him. Who made the decision to take Vanya to the Research Institute of Emergency Pediatric Surgery and Traumatology?
– We have a lot of good hospitals, but there was a special, very difficult case. The child spent 35 hours in the cold. Vanya had signs of general hypothermia, compression of the head and limbs, leg fracture, intoxication, impaired renal function, respiratory failure, imbalance of the cardiovascular system and homeostasis.
The Minister of Health, Veronika Skvortsova, made a personal decision to send the child for treatment to our institute and then took an active part in the numerous consultations we held at the institute. We have a very good team of professionals, and over the years the clinic has accumulated vast experience in assisting children with environmental and natural disasters, wars and terrorist attacks, as well as in the treatment of combined injuries.
I want to say thank you to everyone who took part in the rescue of Vanya. A rescuer who heard Vanya's voice from the ruins, a dog that confirmed the boy's finding, rescuers who brought him, ambulance doctors and employees of the Magnitogorsk hospital who worked professionally and clearly, head of the Biomedical Agency Vladimir Uiba, who organized the flight of the child to Moscow, and, of course, the head of Sberbank, German Gref, who promptly provided the most ready-made board for departure at that moment, to the resuscitation specialist of our institute Denis Leonov, who the hall is a highly qualified resuscitation aid during the flight and on the first day of Vanya's stay at our institute, the institute's director Valery Mitish, who also flew out for Vanya and then took part in his treatment.
Special thanks to the head of the anesthesiology and resuscitation department of our institute, Professor Valery Amcheslavsky, who all holidays were with us at work, and in general to all the institute on duty resuscitators, radiologists, barotherapy workers, traumatologists Sergey Nikishov and Natalia Serova, psychologists and all those who participated in the fate of Vanya.

– They said that he would have to amputate a frostbitten leg, but everything worked out. Mama Vanya calls it a miracle. But maybe it is more correct to talk about the professionalism of the doctors of the hospital?
"At first it was not clear if we could save the child at all, to go out without amputation of the right foot or fingers on it, but the complex therapy, which was started from the first minutes, led to the hope that he would live, was growing. The leg gradually became better, and in the end the foot began to supply blood.
They say that it is impossible to be ill on holidays, but, despite the New Year holidays, all the doctors, whose experience was required for the treatment of Vanya, came every day and did everything that was necessary for this child.
Now Vanya breathes independently, communicates, is already eating for both cheeks, and the question of amputation is removed. Fracture of the leg gradually grows together. It is not excluded, as promised by Veronika Skvortsova, that by his birthday Vanya will be at home.
Honestly, we are unjustly harassed in the media and on the Internet, and this is very disappointing. There are a dozen parents who are dissatisfied with everything and who write complaints to various authorities for 80,000 people who applied to our institute a year. But we take all complaints seriously.
– We are all human and sometimes sick. And where are you being treated, if suddenly it grabs?
– I am no longer young, I am almost 86 years old, and I have the right to be ill. I recently had heart problems. I could go to Germany, to France, to America, to Israel, but I went to the 23rd Moscow clinical hospital, where I was very well done with everything that needed to be done. Now I am sitting in front of you, although the condition was reanimation.
I do not like the mercantile component of providing assistance abroad. They look at us as bags of money and undertake everything, but without any guarantees. Now in Russia there are vascular centers that were not there before, there is a single system for treating oncology, especially for children, and our clinic can be compared to any clinic in the world that deals with the same problems according to the results of treatment, equipment and qualifications of doctors.
WOMEN'S TOPICS
– You are not afraid to say what you think and do what you see fit. For many, are you an uncomfortable person?
– I want not to be an uncomfortable person, but without a principled position, nothing happens. I am what I am, and I just want our health care to be good. It has already made a big step forward: we make diagnoses faster and more accurately, equip hospitals and clinics with various equipment, treatment results and diagnostics are better, and the people are not satisfied with everything.
However, in the history of mankind it has always been like this: people who lived in one or another period of time were never satisfied with life. We solve some problems, others appear. And in 50 or 100 years there will be some Roshal, who will be dissatisfied with something in health care.
– Diagnostics and treatment today is better than 10 years ago, but still the problem of personnel is still not solved?
– There are problems in the number of doctors, especially in primary care and in the countryside. There are problems in the skill level of doctors. There are unresolved ethical issues. But the shortage of doctors is not a public health problem, but the state problem of a health care device, which my colleagues from the National Medical Chamber (NOM) and I disagree with.
For example, due to the fact that the compulsory distribution of doctors studying at the state expense was abolished. Such graduates should go to practical health care, as was the case in the USSR.
Now the programs "Rural Doctor", "Rural Nurse", and "Rural Medical Assistant" are expanding; doctors who come to work in the village are given a million rubles. But this did not solve all the problems. A clear state program is needed, how many doctors and which ones should be prepared, how many and which ones should be sent to this or that region with financing and solving the social problems of the doctors.
Without the introduction of the distribution of graduates we will fail. Or it will, but after many years, and we need it today. Or rather, yesterday. Not only has the number of doctors increased, a verified system of advanced training and admission to the profession and to its individual competencies, which is offered by the National Medical Chamber, is necessary.
– Another painful topic is the increase in criminal cases against doctors.
– Claims against doctors are greatly exaggerated, including by journalists. When we monitor the media, it turns out that the publications in them are hundreds of times higher than the actual number of criminal cases against doctors. Despite this, the Investigation Committee of the Russian Federation has to respond to what is happening. Or this figure: the number of complaints against doctors increased from 3 thousand in 2015 to 7 thousand in 2018. But if you look at the number of complaints and the number of patients who have received assistance in the country, then these are hundredths of a percent of all who apply.
Everywhere in the world, doctors are clutching their heads – they have become better treated, and the number of complaints is growing. Most of those who complain do not want to put the doctors in jail, here the question is more mercantile – people want money and apologize to them.
When the bill of claims goes to millions, then lawyers are happy to help relatives. Or lawyers are looking for relatives themselves.
My personal attitude is that in case of unintentional complications, even with a sad outcome, the doctor should not be in prison. It will not make the doctor more qualified, but it can deprive the patients of an excellent specialist, who unintentionally made a complication once in his life.
There may be other forms of punishment other than prison. But once again it is necessary to pay attention to changing the system of advanced training and admission to the profession, which the Ministry of Health and the National Medical Chamber are doing now. We are trying to find mutual understanding with the Investigative Committee and its leader Alexander Bastrykin. I believe that there is still hope. We are listened to.
PROBLEMS – MANY, MONEY – LITTLE
– What else did you manage to do in eight years, that you head the National Medical Chamber, which you created in 2010?
– The most important thing is that it was created. Medical associations NMP today is in all 85 regions. The National Medical Chamber is recognized as the only one that can reflect the consolidated opinion of Russian doctors in professional matters.
Here we talked about the qualifications of doctors. World experience has shown: professional questions of doctors should be dealt with not by the Ministry of Health, but by professional medical organizations that need to transfer the right of admission to the profession and responsibility for the qualifications of each specialist. Only professionals can say whether a person is ready to work with this or that specialist or not.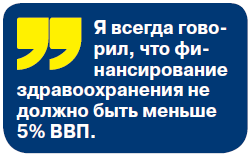 The Chamber has taken on a wide range of this work. We are committed to professional standards, which should be the benchmark for educational standards in order for educational standards to meet professional standards.
We are involved in the accreditation of specialists, one of the forms of admission to the profession and a kind of gateway for termination of admission to the profession of dropouts, we initiated the change of the entire system of continuous training of doctors in Russia, corresponding to world practice. This work is carried out in agreement with the Ministry of Health of Russia.
At the same time, the National Medical Chamber is actively involved in the protection of medical workers in cases of undeserved insults in the media and in the initiation of legal proceedings.
– The National Medical Chamber has developed and implemented an independent medical examination that is unique for the whole world. Tell us about this activity.
– Independent expertise has proven its effectiveness. The expert commission is headed not by a doctor, but by a lawyer or a retired judge, and documents in an impersonal form must be extraterritorially examined by medical experts. The task is to protect both doctors and patients.
Courts and investigators, including the Investigative Committee of the Russian Federation, have already resorted to the help of our independent expertise. There is no such thing in the world, but due to bureaucratic delays we cannot, for four years, approve what actually works legislatively.
– You are the co-chairman of the Central Headquarters of the All-Russian Popular Front. Why is it important for you to work in ONF?
– The ONF has the opportunity to take sharp questions to a high level and, importantly, directly to the president. In many good documents that he accepts, including the last decrees, there is also the merit of the Popular Front.
I am charged with overseeing the difficult directions of demography and health. The tasks are directly ambitious – to ensure that these programs and instructions of the president do not remain on paper, that money is not cut and that there is a result.
I once defined the Popular Front as "a hedgehog in pants," and he will not allow officials of any level to sit in a chair and do nothing and perhaps help them in some way. We already have questions on both demography and health. The control department under the president works directly with us.
"At one of the forums, Vladimir Putin said that Roshal" was full of baldness about health financing. " Is there a result of such "eating away"?
– Of course. The President heard our arguments. He says that the problems with the country's defense have been largely resolved. Now it is possible to increase funding for the social sphere.
He planned to increase health financing from 3.3–3.4% of GDP now to 4.1% in 2018, but I have always said that this figure should not be less than 5%, especially since every investment in health care the state receives five rubles of profit.
Although there are a lot of problems in the country, but little money, in the message to the Federal Assembly, Vladimir Putin set the task to increase state financing of health care to 5%. If only the Ministry of Finance did not come up with something to lower this figure.
I remember when Putin said about raising the salaries of doctors, we thought that the federal budget would give money for this, and Siluanov said that they should take them from local resources. This is where the optimization was born.
– Leonid Mikhailovich, if you were told that your every wish would be fulfilled, how would it sound?
– So that we live without catastrophes, personal and public.
Elena Khakimova.
Photo: T. Pavlova.
.

Chief editor of the blog – Marko.