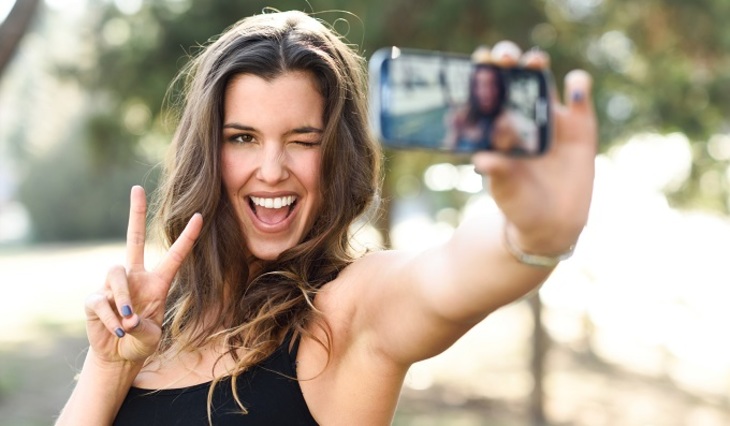 Materials on the topic
An outbreak of narcolepsy was recorded in Kazakhstan
In the US, to combat Ebola raise medical special forces
Shock: actress Lindsay Lohan picked up a deadly virus like Ebola
The era of edited self raises serious concerns among doctors. They talk about the emergence of a new kind of mental disorder.
Previously, people edited their photos in Photoshop. But for this you need to download the program and have at least some skills to use it. Now everything is easier – by downloading to the smartphone application or photo processing programs such as Snapchat, Instagram, Facetune, Flower Crown, Golden Butterflies and Soft Wash, by pressing one button anyone can "improve" their appearance in seconds using filters: retouch skin imperfections, whiten teeth , reduce waist, lengthen eyelashes, enlarge eyes and change their color …
At first glance, harmless at first glance changes the overall perception of the standards of beauty, after which the unedited selfie or reflection in the mirror seems unattractive. Someone does not pay attention to it, but especially susceptible people begin to experience frustration, and then suffer from dysmorphic disorder – body dysmorphogenic disorder (DRL).
There are more people who experience negative emotions in relation to their body in the modern world than ever before. In addition to the predisposition to find flaws where they are not, such patients often isolate themselves from society, suffer from depression or obsessive-compulsive disorder, they have suicidal thoughts.
Adolescents who are very active in using photo-processing applications are often not satisfied with their own appearance and are more likely to diet.
As a result, people see a solution to the problem of dysmorphism in only one thing – in plastic surgery. Since the edited images become the norm in social networks, and the standards of attractiveness change in real life, it is likely that dysmorphia will become the main scourge of modern times.
Now self-esteem is formed on the basis of likes and subscribers, and their numbers depend on how good people look or how beautiful their photos are. If earlier such images could be seen in magazines, now for this it is enough to open any social network. And it increases the critical attitude of users to their appearance. Unattainable beauty standards set by social networks and photo editing applications stimulate a phenomenon called Snapchat-dysmorphia.
Dr. Neelam Yours from the Boston Medical University analyzed the statistics of visits to plastic surgeons and came to the conclusion that the number of people willing to change their appearance has increased by 10% right away. Moreover, as a sample, clients bring their edited selfies – with full lips, a thin nose, high cheekbones and huge eyes.
Psychologists have called this phenomenon a type of dysmorphia – a mental illness that manifests itself in excessive self-criticism of its appearance.
Despite the fact that the beauty industry happily responds to modern needs, doctors say: people do not need plastic, but primarily psychological help. And without psychological support, they will never be happy, even if they fall under a plastic surgeon's knife.
Elena Khakimova.
Photo: FOTOLIA